If you know me well, you know I LOVE the color blue! Its such a serene color in any of it's forms. One of the reasons I love living on the coast is because I can look at the ocean daily and draw inspiration from it. No matter what the day holds, looking at the water brings a sense of calm and peace over me.
One of my absolute favorite shades of blue has always been aqua or turquoise. It is a color that I never seem to tire of and use it in different hues as I am designing beach homes. It takes my mind back to the water where the inspiration starts.
I am often asked about what colors people love most when designing a vacation home. In my decade of experience in the rental and second home market, the colors I find that people ask me the most for usually relate back to seaglass. Seaglass comes in a variety of colors from white to cobalt. They can be pale and soft, or bright and bold. While none of my designs are ever the same, there is a thread of that seaglass inspiration in many of them. I find it a classic go to for the beach, that never trends out of style.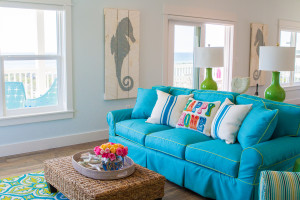 This is a photo of a home we recently completed on Cape San Blas, Florida. Every floor of the home looks at the ocean and all the windows have great filtered sunlight. We varied our shades from bright turquoise and lime green, to more muted and grey tones of the same color range. This Lee Industries sofa is covered in a turquoise Sunbrella fabric that will allow it to be cleaned and changed out if desired. The homeowners love their pets and this sofa allows all members of the family to be comfortable.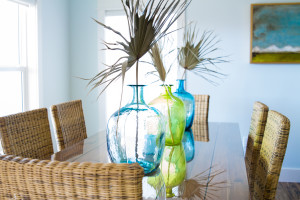 The Cape has amazing light. Here seaglass colored tequila jars with natural palm fronds decorate the dining table.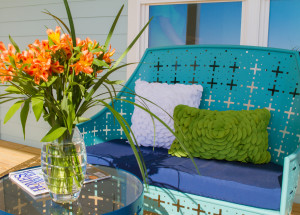 We carried the color scheme out onto the deck with this turquoise metal furniture and Sunbrella fabrics. Its a great place to relax with a cocktail at the end of a busy day on the beach.
I feel blessed to live on the coast and love my life here. I find inspiration all around me. Wherever you live, you can bring the calmness of the ocean into your home, by incorporating some of these colors and elements. Create a life and a home that YOU love. Bring the serenity of the beach home with you.