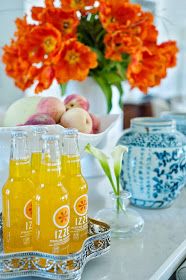 Rachel Cannon Lewis
This was an amazing summer and its hard to believe it is already over. Fall is starting to creep in. Soon the days will get shorter and it will get colder here at the beach. Instead of getting down and out about that, I have decided to focus on the great color opportunities fall brings. I have never been a huge orange fan, but lately I have been so drawn to this color and all the many ways to use it. It's the color of these great flowers in this photo above, designed by Rachel Cannon Lewis Interiors. The color of Hermes, pumpkins, and as Frank Sinatra once said, "Orange is the happiest color". The thought of bringing this color into my designs and wardrobe this fall at the beach, does make me very happy. So I have what I refer to as an orange crush. I am on a mission to find fun and bright ways to cheer up fall with this happy shade, and discover all the fabulous color combos that work with it.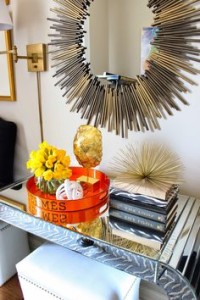 Rachel Cannon Lewis
I die over this Hermes orange tray styled in this photo by Rachel Cannon Lewis Interiors. It shows that orange gives a huge wow factor in small doses. And of course, who doesn't love Hermes?! Love how it pops against the neutrals that surround it. The space is gorgeous and polished, as in true Rachel style.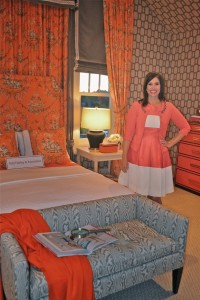 Tobi Fairley
Tobi Fairley recently used orange and grey in her master bedroom design for the Hampton's Designer Show house this summer. I love this great toile fabric by Duralee. Grey and orange can typically be a modern combo, however, Tobi really showcased here how to make it more traditional. New traditional one might say. It makes me want to get curl up and read a great book.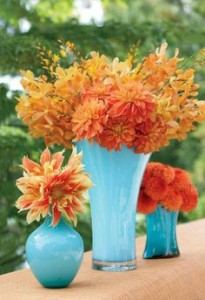 Juilie Borrud/ Veranda
I love this combination of turquoise and orange. Since turquoise is one of my most favorite colors, perhaps styling the orange with it will be a smooth transition into fall for me. It marries the beach with the look of fall so well, and I love to put a coastal spin on whatever I do. I am always looking for ways to do coastal differently.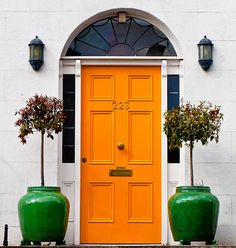 Image from Habitually Chic
Orange and Emerald look nice together. This would certainly be a bold fall statement and fun for Halloween coming up. I don't think I am ready to paint my front door this shade, but I do love it. It shows that you don't take yourself too seriously and adds that bit of whimsy.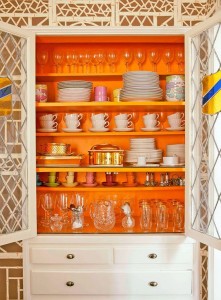 How about painting the interior of a re-purposed piece of furniture? Love the feel of palm springs this orange brings to this china cabinet. This would be an exciting way to pop color into your kitchen and give it a beachy feel. I might not need coffee in the morning if I woke up to this.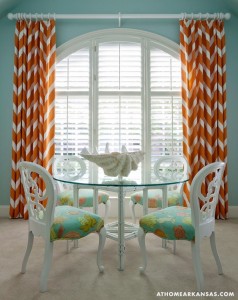 Tobi Fairley
Maybe spruce up your dining space with a fun pattern and pop of orange, like these drapes. This space was also designed by Tobi Fairley. I love that it is a small, simple space. The orange grounds the other light and airy colors. The great clam shell is the perfect nod to the beach.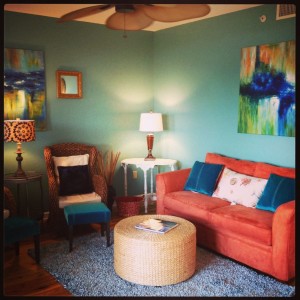 Wendy Patrick Designs
This is a condo I designed last year at the beach. It is much more in the moody, jeweled toned shades. The orange sofa against the aqua walls gives it a fun pop. This is a seasonal rental unit, so we certainly had to work on a tight budget, but it turned out very nice. They were a wonderful family to work for.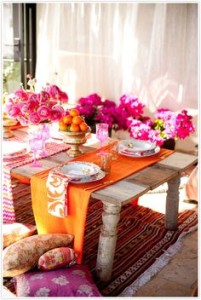 Camille Styles
Orange and pink is a fun combination, like this Moroccan styled set. Love this dinner party look with all the gorgeous fuchsia flowers and the orange table linen. It is casual but has a ton of energy. This space has a great collected look to me and is very inviting. A glass of Rose' would finish it off for me perfectly.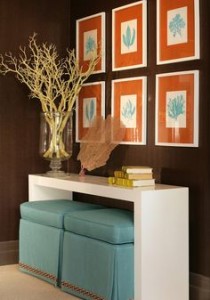 Porter Design Company
I love this combination of the orange, paired with chocolate, aqua, and white. The chocolate gives it such richness. These coastal coral prints are fabulous with the orange mats. And I love the natural elements like the sea fan and branches. I have two antique sea fans in my office that are some of my favorite accessories. They can be a pricey accessory, but totally worth it. They provide color, texture and are so interesting as sculptures.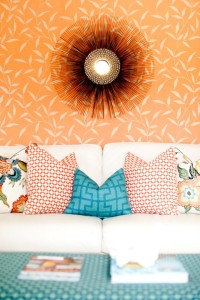 Caitlin Wilson
I love this playful pattern mix that designer Caitlin Wilson came up with. The white sofa really keeps it fresh and compliments the wall so perfectly. This is a great look for the beach, mixing the more fallish colors with the light and brightness you want in a seaside home. White sofas are beyond gorgeous and classic beach, however, depending on your family, could be short lived.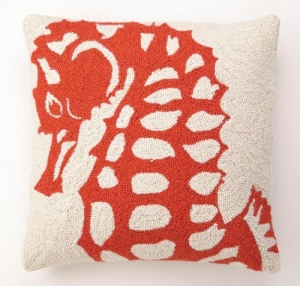 Maybe you want to spruce up for fall without a huge commitment. In that case adding a great throw and some new pillows can be an inexpensive way to get a new look. I am loving this little orange and white seahorse pillow.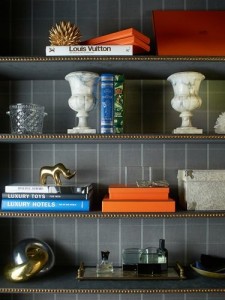 Lisa Mende Design and Tracy Zeller Designs
Or you could add some boxes or cover some books in orange paper like the photo above. It would be an excellent way to bring your existing bookcases into fall and make them come alive.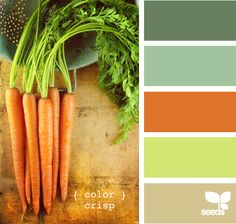 Maybe you want to take a cue from nature and her color palettes, like this Pinterest photo above. This one above is so organic and could be done in earth tones or bold ways. I know a certain little bunny rabbit that would vote for this. His name is Loppy and he is my pet bunny.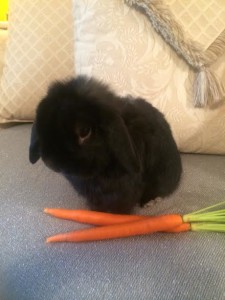 One of his favorite things to eat are carrot tops.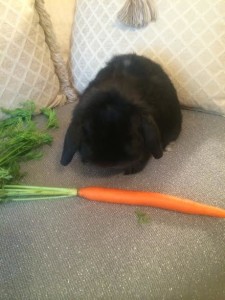 Needless to say he is very excited about fall. And in nine days it is his two year birthday! That calls for a banana cake in his opinion :-))
So I am off to make my plans for fall and incorporate this color more into my life. Hope you all are enjoying the changes of the seasons and coming up with your own exciting ways to brighten up your life and home. I would love to hear your plans, leave me a comment above. Happy Fall Ya'll!