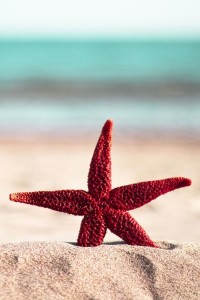 Turquoise and Red, what a fun color combo! We all need more color and cheer in our lives, and this combo brings it no matter how you use it. I love how you can find it in nature, like this redish starfish with the turquoise ocean in the background. God's handiwork sure is beautiful.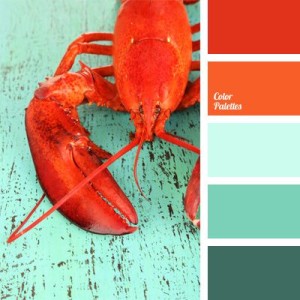 You can use different shades to blend together an interesting look, like this worn furniture and our lobster friend here.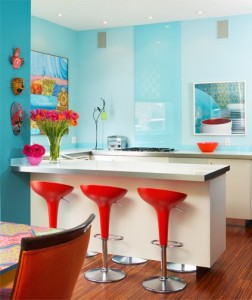 I love these fun stools in red! They give this kitchen quite the color punch! Since red is such a dominating color, it soothes the eye to let it play second to the turquoise. This kitchen is so energetic.
Holly Dyment Design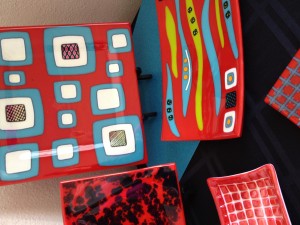 Fun artwork like these glass pieces make great accents.
Gretchen Mayes, glass artist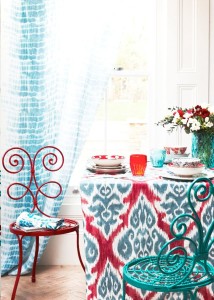 Love the pattern play here that makes these colors just dance.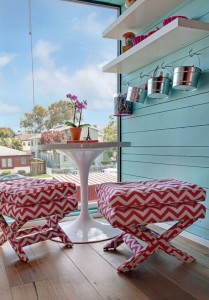 I never tire of a little chevron. This looks like a comfy outdoor space to have on a screened porch at the beach.
Vanessa De Vargas/ House of Turquoise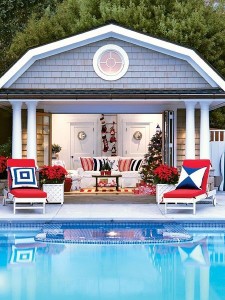 Punch up your pool house by adding red cushions on your outdoor furniture pieces. The pool is already turquoise, so its fresh and easy. Pop in a little navy and it becomes even more nautical.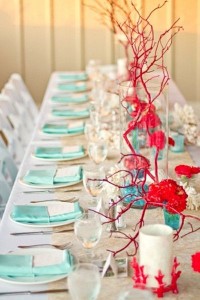 Throw an exciting dinner party. These red branches mimic coral branches. You could spray paint any type of branches from a craft store and get this look. This is a super simple tablescape, but it would be very chic at night by candlelight.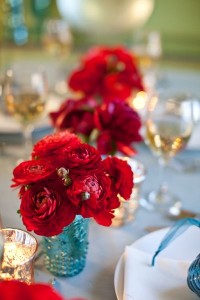 For a more traditional dinner party, these turquoise mercury votives are great with your favorite red flower.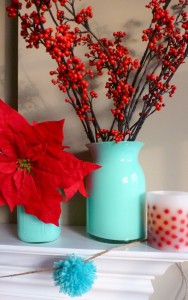 As Christmas time is sneaking up on us again, I am loving this combo for a fresh Coastal Christmas.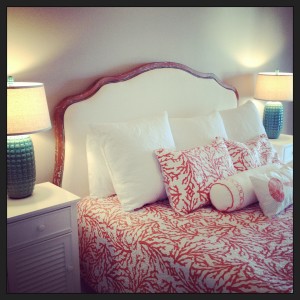 This is a recent bedroom I furnished in these colors. For Christmas I think some gorgeous garland on this white linen headboard would be fabulous!
Wendy Patrick Designs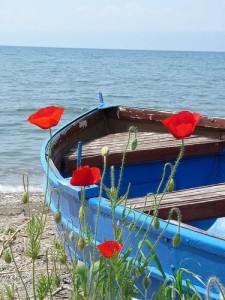 When you are out and about, look for these colors and see what inspiration finds you. You would be suprised how often you see it and don't even notice. It has certainly been around in interiors for some time, but its not used that often. I feel the need to design a contemporary coastal beach home in this color palette.  Leave me a comment and let me know how you would display these colors in your own home. I would love to hear what ratio of each color and how you applied it to your space. Make your life colorful to stay in a coastal state of mind!
You can find these images and more on my Pinterest board: Turquoise and Red.