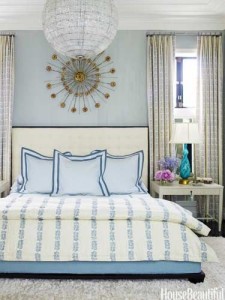 The importance of a master bedroom that allows you to escape the cares of the day is huge. Everyone needs that place to come home to that is a respite where they can recharge. This bedroom above was featured in House Beautiful and designed by Hillary Thomas and Jeff Lincoln. It has a Mad Men sort of vibe, which makes it fun. One very important element to a master retreat is great linens. Don't skimp on your bedding and mattress because you do spend half your life in it.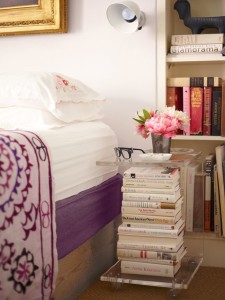 I love to read and typically right before I go to sleep. My reading list is forever long and I never get caught up. This fun lucite nightstand is perfect for holding all those books on your list. This photo is from Savvy Home Blog, and is so inviting. And a great lucite piece is always in style!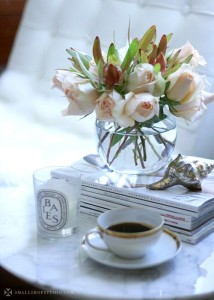 Many people just go straight to bed without really allowing themselves to unwind and enjoy their space. Try lighting a soothing candle, having some wine or hot tea, and a flip through a great magazine. These types of elements really make it a retreat and more restful. Of course fresh flowers on the nightstand are always a must! I love this seashell accessory in the photo above by www.smallshopstudio.com. Small details and touches really create the experience.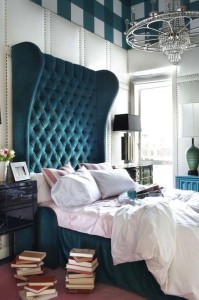 I am quite the fan of a fabric headboard. This space from www.decorpad.com screams glamour and drama with that tall turquoise headboard. The fun thing about a master retreat is that its yours and you can make it as bold or simple as you like. There are no rules, just add what you love and what makes you feel at home.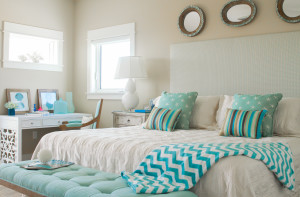 This is one of my recent master bedroom designs. I love the soft colors and filter of natural sunlight. We kept it light and bright. We attached this custom fabric headboard to the wall, which is a fabulous space saver in a small bedroom. The fun thing about fabric headboards is they can be made in any shape you like, and I think they really make a space cozy.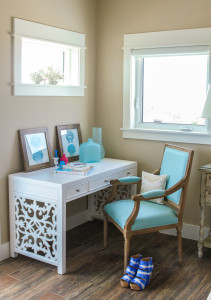 We all lead very hectic and busy lives. Its really important to have that area of your home to take your shoes off and really let your hair down.  Master bedrooms are very personal and we all love different experiences. Fill it with what makes your heart happy and drift off to dream…